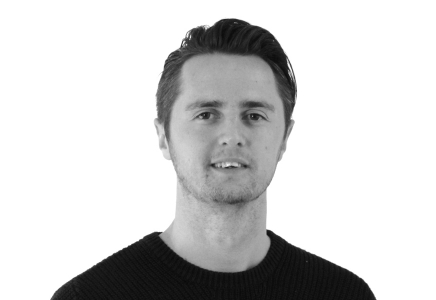 Firstname/Profession

0-4 years Experience
Auckland, Wellington, Hamilton, Tauranga

803

Represented: 02/11/17
Bio
Tom is a graphic designer, illustrator and keen Game of Thrones fan. Tom graduated from Sheffield Hallam University, with a BA (Hons) in Graphic Design. He has worked at agencies in Manchester and London and recently moved to Auckland. Tom is easy going (once he's had his english breakfast tea) and likes to take a hands on approach to design, by visually communicating his unique way of thinking.
Expertise
Adobe Creative Cloud
After Effects
Illustrator
InDesign
MS Powerpoint
Photoshop
Wacom
Wordpress
Recent Employment
Graphic Designer / Feb 2017 - Oct 2017 / Good Relations
At Good Relations I was responsible for internal comms, pitch design, visual concepts, packaging and branding for companies such as Adidas, Lidl and Royal Caribbean.
As well I design and develop exciting social media pages with customised and interactive posts for clients such as Subway, Trustford and Bosch.
Junior Graphic Designer / July 2015 - Feb 2017 / Turley
I focused on creating planning documents, residential pitch's and property branding for clients such as Keepmoat, Premier Inn and British Land. Also drawing plans and technical drawings whilst working alongside the urban design team to help create masterplans and development plans of upcoming residential sites.
Freelance Graphic Designer / Feb 2016 - Apr 2016 / Squad Ltd
Creating a range of print and web based designs for clients briefs such as Umbro, Cheshire Science Corridor Enterprise Zone and Martin Moore Kitchens. I also created initial drawings and wire frames mock ups to show clients the concepts of whats their projects/campaigns would look like.
Industries I know well
Food and Beverage
Housing
Healthcare
Transport / Travel
Retail
Sports

Mediums I know well
Print & Digital
Qualifications
BA (Hons) Graphic Design, Sheffield Hallam University 2015