The company's client promotion goes from good to bad to worse and then great - all in 24 months.
As many of our fifty clients who attend The Pond's Twilight Racing event in December 2019, might recall we carried out a big promotion where all clients threw in their names into a hat and twelve lucky winners had the chance of each owning a 1% share in a racehorse for a twelve-month period free of charge. The plan was to have the horse racing in the following year qualifying for the two-year-old Karaka Million.
The pre-selected Karaka Yearling Sale horse for the promo came from an impressive lineage of prized racing horses and it seemed at the time that the horse would go onto achieve great things, making its new owners proud. However, disaster struck in February 2020 when the horse died instantly of colic (natural causes).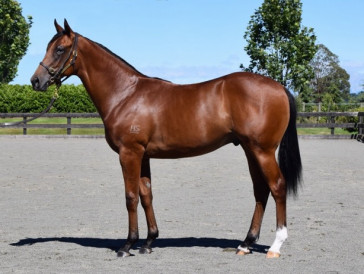 But, The Pond was not about to give up and we were determined in realising the ownership opportunity for our dozen clients and as the saying goes, "second time lucky". So, we transferred everyone's 1% share to a new horse we purchased and called him Mach Schnell (in German it means 'look sharp to be quick'). Thankfully, this time the horse has stuck with no illness, or injury.
Just when we thought things were heading in the right direction Covid-19 hit New Zealand shores in late March 2020. Mach was just about to go to the races for his first start, so his plans of greatness were skittled as much as ours. So, with twelve months lost to Covid-19 and racing on hold nationwide for 6 months, we did the right thing by our lucky clients and extended the ownership period for another 12 months (at no extra charge).
Finally, after a long run of bad luck, Mach Schnell had a trial and had his first start at the races, at Ruakaka on 14th April. The result was promising with a Mach Schnell coming in a close second after drawing the outside gate. He has plenty of ability and will be a fun proposition for clients in the coming years.
In 2021, and beyond Mach Schnell will continue to race, locally at Ellerslie and various racetracks around the North Island and he continues to go from strength to strength in his racing prowess.
Mach Schnell is a go!
Link to his first race: Watch here