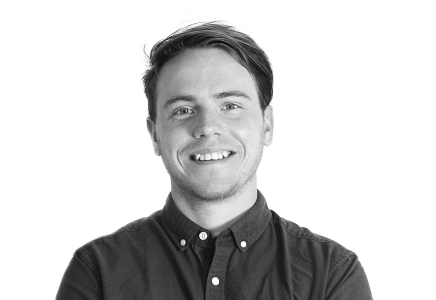 Firstname/Profession

0-4 years Experience
Auckland, Wellington, Hamilton, Tauranga

122

Represented: 01/03/19
Bio
I am a creative, passionate and award-winning graphic designer thriving to create new solutions for both digital and print platforms. 
I have recently moved over from the fast-paced hustle and bustle of London, so when I am not sinking my teeth into a new project and finding a new creative solution to a problem, I am out exploring the mountains and beaches that New Zealand has to offer.
During my studies, I was awarded the Woodgate Stephens Master Printer award for my determination to discover and implement a new way of tackling the print media market. 
In my most recent role as Creative Solutions Designer, I was the lead designer for the team and took charge of not only the active design of the day to day work but of the art direction of the department and all creative content which it produced. Although I only have 2 and a half years experience in a creative design field, my knowledge, and hands-on experiences exceeds this and I am able to bring a new way of thinking to any project.
Expertise
Animation
Art Direction
Artworking
Banners
Brand Development
Brand Identity
Branding
Concepting
Editorial
EDM Template
Software
After Effects CC
Bridge CC
Illustrator CC
InDesign CC
Lightroom CC
Microsoft Excel
Microsoft Powerpoint
Microsoft Word
Photoshop CC
Premiere Pro CC
My skills
Proffesional
Great organisational skills
Confidence
A friendly personality
Passion for design
A love of challenges
Unfaltering punctuality
Effective communicator
Personal
Caring for others
Self-motivated
Ability to learn quickly

I'm best known for...
I am known for 2 things. The first of which was being the first person to be awarded the Woodgate Stephens Master Printer Award for producing a print magazine which was the first of its kind, something that could be shared between those with their sight, and the visually impaired through the use of Braille.

The second thing I am known for is being the only in-house designer for the commercial team working across 10 airline in-flight magazines around the world, this included everything, including the magazine re-design of Brussels and Qatar airline magazines.
Recent Employment
Creative Solutions Lead Designer / Jan 2018 – Jan 2019 / Ink Global
Freelance Digital Designer / Oct 2017 – Jan 2018 / Booktable
Junior Designer / Jan 2017 – Oct 2017 / Shortlist Media
Industries I know well
Travel & tourism
Publishing
Events
Food & Beverage
Hospitality

Mediums I know well
Print design and production
Digital design and production
Advertising
Email design and development
CMS development
Adobe Creative Suite CC
Video production and editing
Honours & awards
Woodgate Stephens Master Printer Award (final university project)
Qualifications
BA (Hons) Magazine publishing - First class at University of Arts London
Diploma in Web Development - Distinction at Shaw Academy
Diploma in Graphic Design - Distinction at Shaw Academy