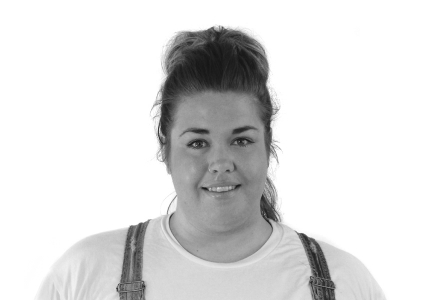 Firstname/Profession

4-8 years Experience
Auckland

673

Represented: 01/12/17
Bio
I love being a creative, even if I can't walk down the street without analysing the signage and mostly cringing. I'm a bubbly, outgoing person yet I have an unhealthy obsession with black clothing. I'm not half bad at making a Spotify playlist, only use my left hand to write, and I can work a coffee machine like my life depends on it (because it does). You'll often find me making trips back home to Wellington, to head to my bach with a wine in hand and cuddles with my dog or to help paint a mural if there's one going with some friends.
I consider myself an all rounder who will throw everything I have into a project, as demonstrated with work I've done for clients like Mishmosh, BKOW and Southern Discoveries. The last few years have been an incredible start but it's time to step it up a notch. As a creative I always want to learn and expand my skill set, but my current focus is to do more branding and strategic thinking. As for what I'm good at: I love type based work, grids, black and all things social.
Expertise
Branding
Digital Design
Graphic Design
Logo Design
Print
Publications
Social Media
Strategy
Web Design
Software
Illustrator CC
InDesign CC
Photoshop CC
Sketch
My skills
Print Design

Publication
Print collateral
Brand identity
Branding
Strategy
Large format
Publication
Below the line
Digital Design

Web Design
Social Media Management
Recent Employment
Graphic Designer / 2017 / Goodfolk
My role with Goodfolk was a move to the digital sector – working with bigger corporates such as Fletcher Building and Auckland Council, and working with smaller niche companies too.
Graphic Designer / 2014 - 2017 / Transformer
My role with Transformer was filled with a range of different types of work. I worked with Southland tourism operators to commercial Real Estate and PR companies on varying projects.
I was fortunate to work with Southern Discoveries tourism operators - helping them with their rebrand, creating all marketing collateral and building and maintaining a great relationship with their marketing team.
Graphic Designer / 2014 - 2015 / Redfire Design
Moved to Auckland into my first full-time role and was working with accounts such as Paint Aids Limited, Irvine Flooring, Avoca as well as in-house jobs. I helped get our new website up and running, putting together content and also running a social media campaign for an ANZAC commemoration: The Giant Poppy Project.
Industries I know well
Tourism
Hospo
FMCG
Retail
Corporate
property
Mediums I know well
Print
Online
Social Media
Packaging
Qualifications
BACHELOR OF DESIGN (HONOURS) Visual Communication Design - Massey University, Wellington