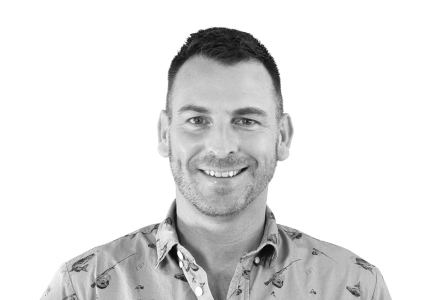 Firstname/Profession

8-12 years Experience
Auckland, Hamilton, Christchurch, Wellington

1001

Represented: 02/03/18
Bio
I'm a creative multidisciplinary designer, passionate about creating strategically driven design solutions, with a love of making complicated simple using a design led approach to problem-solving.   
As a designer, I manage and execute projects for clients who find themselves needing brand development, user experience design, websites, social media, collateral design. I'm continuously learning and being inspired by this effervescent industry.
Staying on top of the latest digital trends, understanding the requirements for developers, clients and users.  I am always pushing myself creatively and on the constant lookout for new challenging projects.
I have over 10 years of experience working with a variety of brands in different capacities, from a wide range of industries. I am able to adapt to a range of design styles from corporate to creative using both flair and enthusiasm.
Expertise
Brand Development
Brand Guidelines
Brand Identity
Creative Direction
EDM Template
Graphic Design
Layout
Packaging
Social Media
Web Design
Software
Illustrator CC
InDesign CC
Photoshop CC
My skills
Creative and Design:
- Developed visual solutions to communication problems through the use of printed and digital platforms.
- Collaborated with marketing on development of project schedules and expectation management.
Strategy & Brand experience:
- Developed brand strategies and customer sensory experiences, navigating users to establish a meaningful relationship with the brands.
- Created successful offline and online brand strategies, campaigns and projects with outstanding results.
Client relationship management:
-Cultivated excellent long-term relationships with clients, maintaining ongoing communication and facilitating solutions to address concerns, as well as conducting business strategy meetings with sales and marketing, internal and external stakeholders.
Project management:
-Experience scoping, timing, controlling and executing projects on budget in a timely manner.
-Great communicator of complex information to individuals and groups.
Recent Employment
Freelance Designer / 2012 - Present
 Creative director for Home Industry.

 
 Concept and brand identity including website design, build and implementation.

 
 Design and management of all graphics and collateral for the business including EDM's, promotions, events and all campaigns.

 
 Art director and styling for both digital and print advertising, including social media, and display advertising. 
Creative Director / 2011 - 2013 / PROJEKT
Established a boutique design studio, producing a wide range of deliverables across multiple industries, including retail, food & beverage and insurance, and several well-known brands:
Alexandra's - Creative strategy and branding, packaging and label design, digital strategy and concept.
Bike NZ - Creative strategy, magazine, marketing print collateral, digital strategy, and design.
Kiwi Farms - Packaging and label design.
Republic Home - Creative strategy and branding, web design/EDMs, photo shoots and styling, social media and digital strategy.
Facilitated proposals, pitches and presentations, quotes and suppliers/production management.
Industries I know well
Food & Beverage
Retail
Sports
Council
Government
Education
FMCG
Furniture
Lighting
Luxury Goods

Mediums I know well
Print
Web
App
Packaging
Qualifications
National Certificate in Retailing – Manukau Institute of Technology 1998
Certificate on Marketing Principals, Market Research and Market Behaviour – Manukau Institute of Technology 1998
Diploma in Computer Graphics – Media Design School 2012