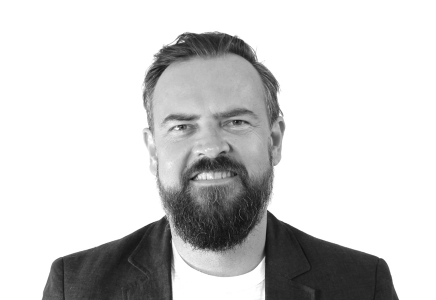 Firstname/Profession

12 Plus years Experience
Auckland

380

Represented: 22/02/18
Bio
I'm passionate about the transformative power of ideas, which are at the heart of all creative work. Applying a mix of strategic insights, design thinking, creativity and storytelling an idea is not only brought to life but experienced in an immersive and meaningful way, leaving a more enduring and lasting impression. I am a creative specialising in identity and branding, print and digital design. I have 15+ years of design experience working with both in house creative teams and creative agencies.
Expertise
Art Direction
Artworking
Brand Development
Brand Identity
Branding
Campaigns
Concepting
Creative Direction
Digital Art
Digital Design
Software
Illustrator CC
InDesign CC
InVision
Keynote
Lightroom CC
Photoshop CC
Sketch
XD
My skills
Creative

Ideation
Art direction
Brand development
Brand identity systems
Infographics
Journey visualisation
Storyboarding
Print design
Digital front end UI/UX & Web design
Exhibition design
Wayfinding & signage
TVC development
Typography
Art working
Finished art
Sketching & doodling
Listening
Thinking
Creating

...and finally turning things
into an immersive experience.
Attributes
Advanced understanding of typography and grids.

Ability to produce unique and considered design solutions in
an efficient and timely manner.

Front-end User Interface and User Experience design.

Finished art experience – Ability to produce technically correct files
for print and digital, adhering to brand guidelines where relevant.

Excellent written and verbal communication skills.

Ability to present work confidently to clients, clearly articulating design decisions and discussing feedback.

Dependable and dedicated to produce world class work.
I'm best known for...
Western Sydney Parklands Identity
Greater Union Identity
Building the Lucky Country series
Shaping Future Cities series
Deloitte Private Connect Identity
Board and CXO Identity
Recent Employment
Design Director / Senior Designer Manager / 2012 - 2017 / Deloitte
As Design Director and creative lead I worked closely with Deloitte's Strategic Marketing team developing, implementing and managing major nationwide campaigns along with creative design work. 
Campaigns generally consisted of developing the overall narrative, followed by the messaging direction, visual expression and the implementation of the design across various touchpoints. These included all collateral material infographics, animation, internal and external website digital assets, social media banners and event signage. Major campaigns that I was across was the Building the Lucky Country series and the Shaping Future Cities: ImagineSydney series.
Along with general design duties I produced material for the wider Board and CXO programs. This included the Board and CXO Identity system, CFO Sentiment Survey, Board Effectiveness Report and the CFO Vantage Program to name a few. 
As Design Director I have implemented work methodologies, directed and supervised the work being produced by the design team across Adelaide, Melbourne, Sydney and Perth.
Responsibilities included complete project management comprising of managing workflow, costs, timings, deadlines, concept development, presenting to clients, art direction, design, artworking and print management. 
Senior Designer / 2003-2012 / Mangofan / Freelance
Producing design and artwork material for a broad range of clients.
Main focus area was in concept development, art direction, identity, branding, web design, typography and art working for both print and digital. Other duties included project management comprising of work-flow, costs, timings, deadlines and delivery. 

Working across a varied client portfolio and industries including Zurich Investment Services, Consolidated Steel Group, NSW Government – Western Sydney Parklands, Mortgageport and Network Electrical.
Senior Designer / 1998 -2003 / Leo Burnett
Working as lead designer on multi-faceted projects both on a national and local state level across a wide range of design requirement.
Duties included concept development for print and digital, identity, branding, typography and pre-press art working. 

Working across a varied client portfolio including Woolworths, Greater Union Cinema, NineMSN, Optus, Subaru, Heineken, Kellogg's and Malaysian Airlines, MBF, AMP, Mater Hospital, Stolichnaya and UDL.
Industries I know well
Advertising
Arts and Culture
Defence
Education
Entertainment
Fashion
Food and Bev
Finance
Government
Health
Hospitality
Public Sector
Private Sector
Retail
Sports
Telco
Technology
Travel and Tourism
Mediums I know well
Print
Digital
Environmental
Qualifications
Randwick Technical College
Diploma in Graphic Design, 1992 - 1993