Jason Biggs: from corporate marketing to occupational psychology
Jason Biggs is an accredited CliftonStrengths® Coach who spent 20 years working in corporate marketing, managing teams and marketing brands like Nescafe, Kleenex and Huggies, before making the move from boss to coach.
In the past eight years, Jason has coached everyone from senior leadership teams to front line team leaders at more than 50 companies big and small.
Jason gives clients confidence when it comes to key hires, assesses team strengths and identifies gaps for future hires.
Believing that people are inherently good, he works closely with businesses to create insights at an individual, team and organisational level that all focus on key strengths identified within the CliftonStrengths® theory.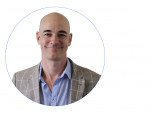 For more information about the details and costs of this new Pond service please contact a Pond Recruitment Consultant today.