Firstname/Profession

8-12 years Experience
Christchurch
Rentokil Initial Global B2B Engagement Strategy
About Project
Whilst working a True Digital, Lauren was brought on board this project with Rentokil Initial, where they sought to improve their operations and customer experience.
Industries
Service
Specialties
CX Design, Digital Strategy, Strategy
Client
Rentokil Initial
Credit
Agency: True Digital

Challenge
Rentokil Initial is a leading global pest control and hygiene company. After nearly 100 years in the business, they're faced with rapidly changing global markets, consumer expectations and business models which threaten their status quo.
The organisation had commissioned swathes of research to understand their audiences but was yet to improve the experience across sales, retention and service quality.
As Lead Strategist, Lauren worked alongside the Head of UX to challenge the brief (to conduct more isolated research), and focus on turning data into a global decision-making tool to improve the corporate customer experience.
The brief was to:
- Codify learnings and disseminate them throughout the organisation
- Find the human behaviours behind 'functional' business decisions
- Build confidence by simplifying complexity
Insight
Like many organisations, Rentokil struggled with siloed departments, communication challenges and competing interests. All major barriers to improving any customer experience.
Each of the seven departments needed to understand:
- Influential people and factors
- The 'moments' to prioritise
- Their role in servicing customers
- The analysis identified a common thread through the research. 'Risk' allowed Lauren and the team to acknowledge logical and emotional needs; reflecting organisation complexity and personal responsibility.
Easy to empathise with, 'Risk' became a powerful concept for the team and was a natural way to move beyond rational data points into the real reasons decisions are made.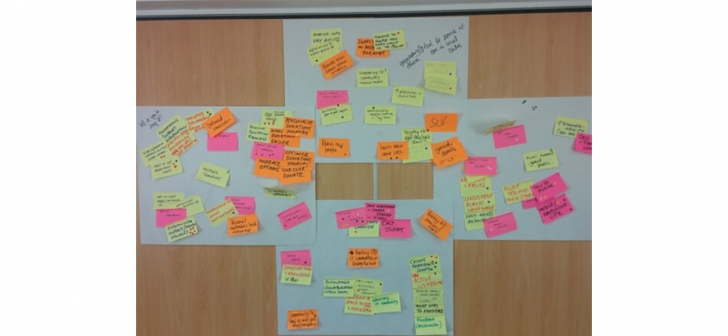 Approach
Kicking off with Stakeholder workshops revealed confusion and a lack of ownership which had affected previous CX projects. Stressing there was no silver bullet, they helped the team to establish a steering group that sat alongside the project team. This group was given clear responsibilities and expected to meet regularly and act as a conduit between the Board and global stakeholders.
The scale of the research problem unfolded as the team received endless material which attempted to solve Rentokil's experience challenges. The overwhelming data could inform simple online acquisition journeys but lacked insight into major corporate customers and their service needs.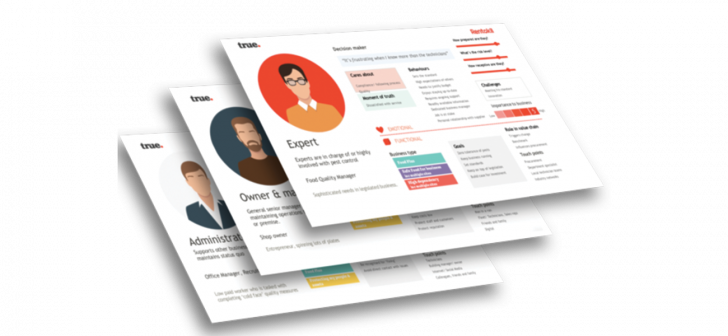 Using 'Risk' as the lens to interpret the research, Lauren and the team were able to condense data into customer archetypes and the decisions they had influence over.
Armed with these archetypes and a 'one-stop' customer journey map, the team identified gaps in the research and set out to validate the thinking. Skype interviews were conducted with carefully selected customers who represented the archetypes across five countries.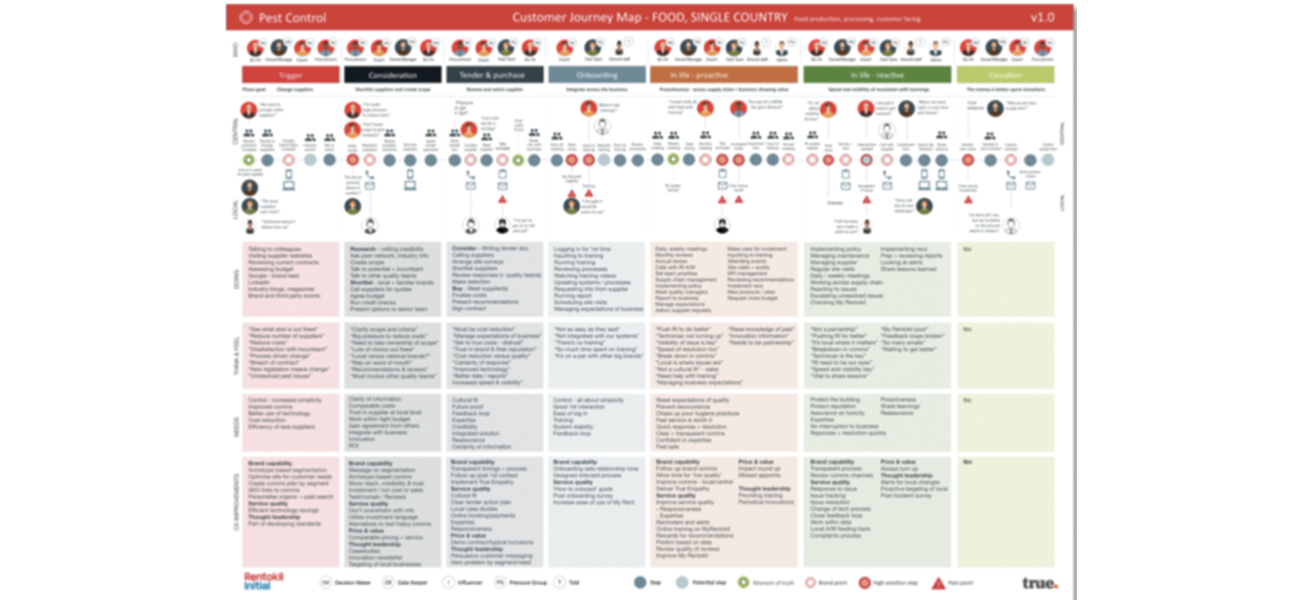 With the brief met, Lauren and the team went one step further. To help Rentokil take action and make critical decisions, they developed a set of ten business cases to complement their artefacts. These recommendations were presented to senior stakeholders as stimulus for an upcoming annual Board meeting.
"We were hugely impressed with the strategy output from True. It really resonated with what our web performance data seemed to be telling us. Ours is a complex business, and you've really helping shine a light on how digital can play a great role, and help us focus on the right things."
- Clara Bermingham, Digital Marketing Director, Rentokil Initial
380